Fresh fruit trifles
You'll need 6 glass dessert dishes for this; each one needs to hold about 250ml. You can also make the trifle in a large bowl, but it will take a little longer to set. Break the sponge fingers in half and place them in the base of each dish. Drizzle with a little sherry if you like.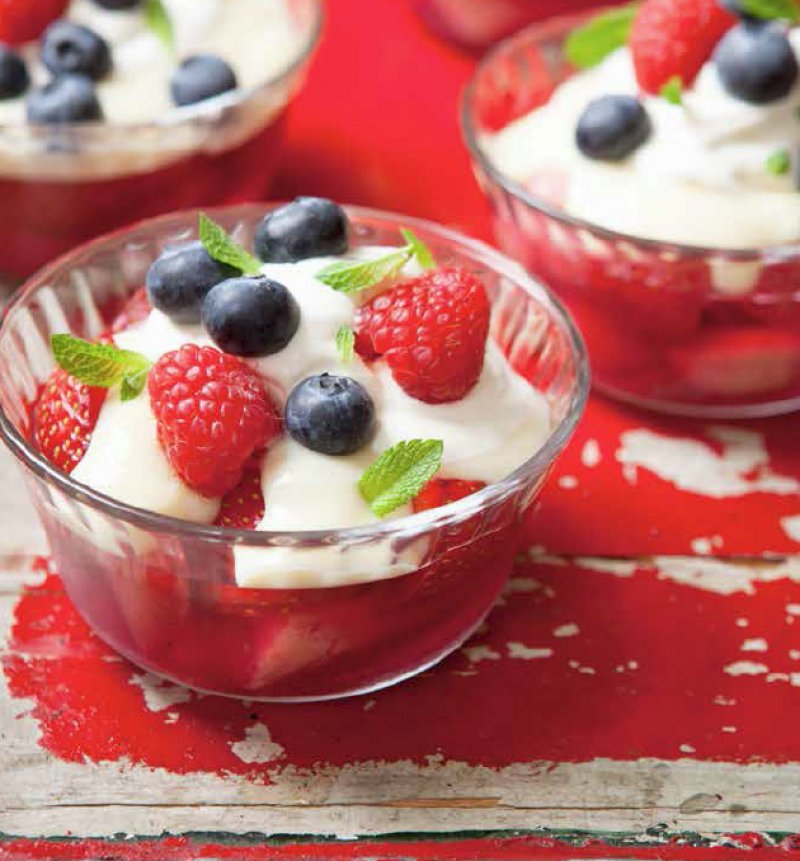 Info
PT1H
Serves

6
Prep time

15 minutes
Cooking time

Time to set
Calories

239 per serving
Ingredients
12 sponge fingers (about 75g)
3 tbsp sweet sherry (optional)
2 x sachets (23g) of raspberry flavour sugar-free jelly crystals
300ml just-boiled water
600ml cold water
200g fresh strawberries
300ml low-fat ready-made custard, preferably fresh
125ml double cream
100g fresh raspberries
100g fresh blueberries
fresh mint leaves, to decorate
Method
Dissolve the jelly crystals in 300ml just-boiled water in a large jug according to the packet instructions. As soon as they have dissolved, stir in the 600ml of cold water.

Hull the strawberries and cut them in half or into quarters if they are very large. Scatter the strawberries over the sponge fingers. Pour the jelly slowly over the broken sponge fingers and strawberries until they are evenly covered. Cover the dishes with cling film and chill in the fridge for 3–4 hours or until the jellies are set.

Take the dishes out of the fridge and remove the cling film. Spoon the custard on top of each jelly without taking it right to the sides.

Put the cream in a bowl and whisk with electric beaters until soft peaks form. Try not to overwhip the cream – it's ready when it looks like soft, billowing clouds. Add a large spoonful of the whipped cream to each trifle, placing it on top of the custard. Decorate the trifles with fresh raspberries, blueberries and a few fresh mint leaves.

These keep well in the fridge so you can make them up to 2 days before serving – ideal if you're planning a party.