Frangipane mince pies
Frangipane mince pies are so much easier to assemble than traditional ones as the frangipane topping is easier than a fiddly pastry top. They also taste wonderful, especially with a dollop of rum butter.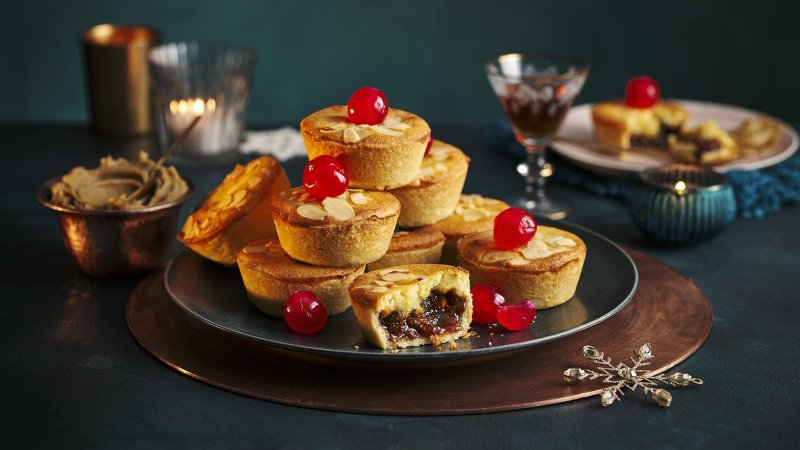 Info
PT45M
Serves

Makes 24 mince pies
Prep time

30 minutes
Cooking time

10 - 30 minutes
Ingredients
For the pastry
200g/7oz plain flour
50g/1¾oz ground almonds
50g/1¾oz icing sugar
125g/4½oz butter, chilled and diced
1 egg yolk
For the frangipane
85g/3oz unsalted butter, softened
85g/3oz caster sugar
2 free-range eggs
100g/3½oz ground almonds
15g/½oz plain flour, plus extra for dusting
few drops almond extract (optional)
To assemble
400g/14oz mincemeat
50g/1¾oz flaked almonds
For the rum butter (optional)
250g/9oz unsalted butter
200g/7oz soft dark brown sugar
8–10 tbsp dark rum
nutmeg or mixed spice, to taste
Method
First, make the pastry. Put the flour, ground almonds, icing sugar and butter in a food processor (or a freestanding mixer fitted with a paddle attachment) and pulse until the mixture resembles fine breadcrumbs and starts to clump together a little. Add the egg yolk and pulse again, then gradually add 1–2 tablespoons of very cold water, until the mixture comes together into a slightly tacky dough. Wrap in cling film and chill.

To make the frangipane, beat the butter and sugar together until very soft and aerated, then add the remaining ingredients with a pinch of salt. Mix to combine.

Preheat the oven to 200C/180C Fan/Gas 6.

To assemble, roll out the pastry to around 3mm thick on a lightly floured work surface. Using a 7.5–8cm/3–3¼in round cutter, cut out 24 rounds and use to line 2 x 12-hole fairy cake tins. If you only have one tin, do the rolling and baking in batches.

Add a heaped teaspoon of mincemeat to each round of pastry, followed by a generously heaped teaspoon of the frangipane. Use a knife or spatula to spread the frangipane evenly over the mincemeat, adding a little more if necessary to seal round the edges, making sure the mincemeat is completely covered. Sprinkle with flaked almonds. Bake in the preheated oven for 15–17 minutes, until the pastry is crisp and the frangipane is lightly browned and slightly domed.

If making the rum butter, cream everything together until light and fluffy.

Leave the mince pies to cool in the tins. Serve with a dollop of rum butter.