Enchiladas
A Tex-Mex favourite, this is a dish your whole family will love! You'll need a can of red kidney beans in chilli sauce, which makes a fairly mild chilli mix, but you can add some extra heat by stirring in some dried chilli flakes before simmering. And if you fancy a bit more heat, you could scatter a few sliced canned jalapeños or finely chopped red chilli over the crème fraîche at the end.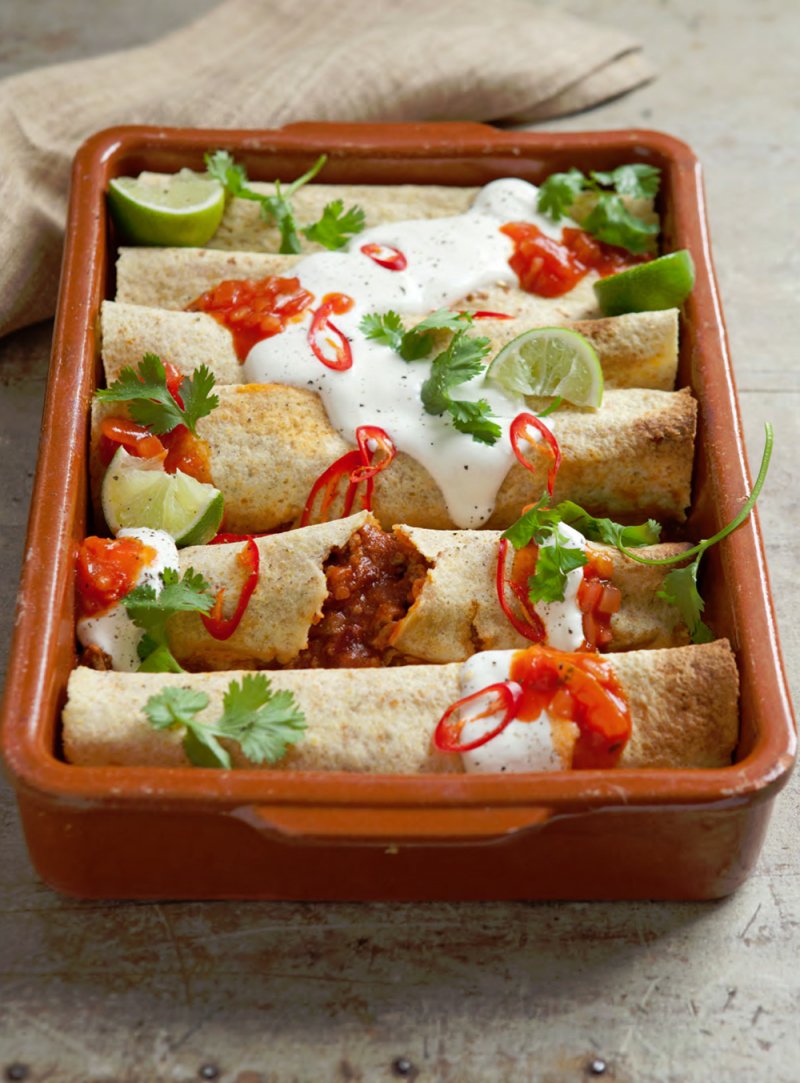 Info
PT2H
Serves

4
Prep time

20 minutes
Cooking time

50 minutes
Calories

468 per serving
Ingredients
450g extra-lean beef mince (5% or less fat)
1 medium onion, chopped
2 garlic cloves, finely chopped
400g can of red kidney beans in chilli sauce
3 tbsp tomato purée
½–1 tsp dried chilli flakes (optional)
600ml beef stock, made with 1 stock cube
Oil, for spraying
8 soft corn tortillas
50g half-fat mature Cheddar cheese, finely grated
150g half-fat crème fraiche
3 tbsp tomato salsa sauce (fresh or from a jar)
Fresh coriander, to garnish
Lime wedges, to serve
Flaked sea salt
Freshly ground black pepper
Method
Put a large non-stick frying pan over a medium heat and add the beef, onion and garlic. Cook it all up together for 5 minutes, squishing the mince against the sides of the pan to break it up.

Tip the kidney beans and sauce into the pan and stir in the tomato purée and chilli flakes, if using. Stir in the beef stock and season with a good pinch of salt and plenty of freshly ground black pepper. Bring to a simmer, then reduce the heat and leave to simmer gently for 25–30 minutes, stirring occasionally, until the mince is tender and the sauce has thickened. Stir more regularly towards the end of the cooking time so the sauce doesn't stick. Adjust the seasoning to taste.

Preheat the oven to 200°C/Fan 180°C/Gas 6. Spray a large shallow ovenproof dish with oil or brush it with a little sunflower oil.

Take a tortilla and spoon about an eighth of the mince mixture down the centre. Sprinkle with an eighth of the cheese and fold over one side, then the other and place in the greased dish. Repeat with the remaining tortillas, mince and cheese until everything is used up.

Cover the dish with foil and bake for 15–20 minutes or until the tortillas are piping hot – remove the foil for the last 5 minutes of the cooking time. Spoon the crème fraiche and salsa sauce over the tortillas and garnish with fresh coriander. Season with more black pepper and serve with lime wedges for squeezing.

You can use small flour tortillas if you can't find corn tortillas in your local stores. Don't be tempted to get the large wrap-style tortillas though as they will push the calories up by about 106 per portion.