Egg, bacon and asparagus flan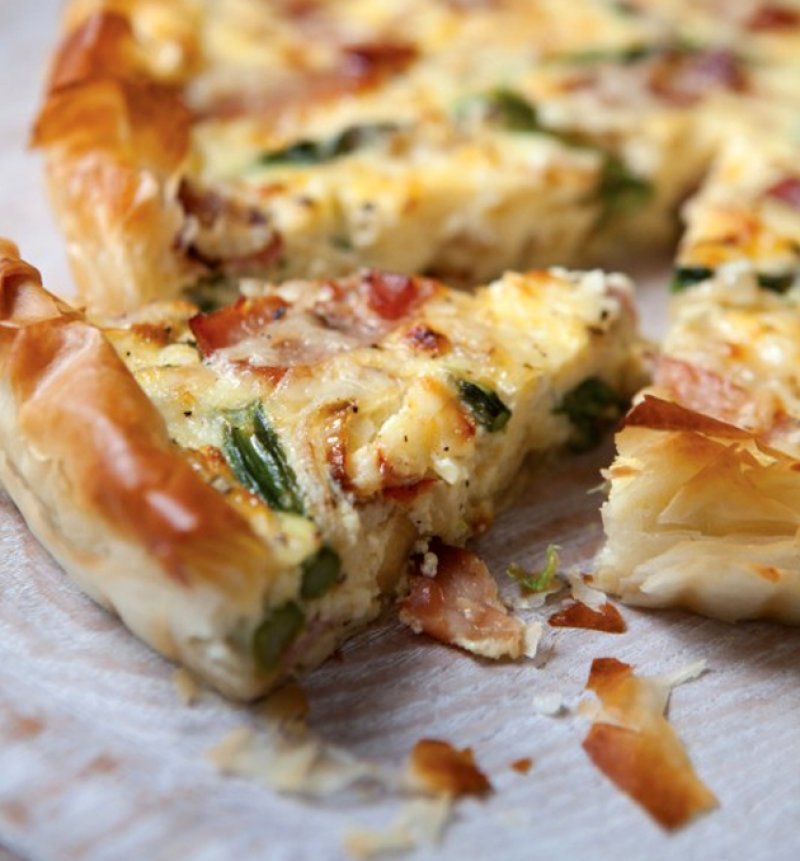 Info
PT45M
Serves

6
Prep time

25-30 minutes
Cooking time

25-30 minutes
Calories

245 per serving
Ingredients
5 rashers of dry-cure smoked back bacon
1 tsp olive oil
1 medium onion, finely sliced
25g cornflour
300ml semi-skimmed milk
3 large eggs, beaten
25g extra-mature Cheddar cheese, finely grated
flaked sea salt
freshly ground black pepper
1 tbsp sunflower oil, plus extra for oiling the tin
4 sheets of filo pastry, each about 32 x 38cm
Method
Lightly oil a 20cm loose-based fluted flan tin that's about 3.5cm deep. Pour the rest of the oil into a small bowl. Place a sheet of filo pastry in the flan tin, pressing it firmly against the base and sides. Using the tip of a pastry brush, brush the pastry with a little oil then cover with a second pastry sheet at a right angle to the first. Brush with more oil and cover with a third sheet at the same angle to the first. Brush with the oil and cover with a fourth sheet, running in the same direction as the second. Roll and crumple the overhanging pastry back on to the rim of the tin, lifting slightly above it, and brush lightly with the remaining oil. Place the tin on the baking tray.

Put the cornflour in a non-stick saucepan and stir in 50ml of the milk to make a thin paste. Pour over 200ml of the milk and stir well. Bring to a simmer, stirring constantly. Cook for 1 minute over a medium heat, stirring, until the sauce is thick and smooth. Season, then remove from the heat and stir in the rest of the milk to cool and loosen the sauce. Stir in the beaten eggs until thoroughly combined.

Scatter half the asparagus, bacon and onion mixture over the base of the pastry case and pour the white sauce gently on top. Scatter the remaining asparagus and bacon mixture on top and press down lightly, then sprinkle evenly with the cheese. Bake on the preheated baking tray in the centre of the oven for 25–30 minutes or until the pastry is lightly browned and crisp and the filling is set. Take the flan out of the oven and leave to cool in the tin for 10 minutes before removing. Serve warm or cold.