Creamy prawn korma
Ready in no time, this korma will satisfy your takeaway yearnings. Rich, creamy and satisfying – absolutely prawnographic.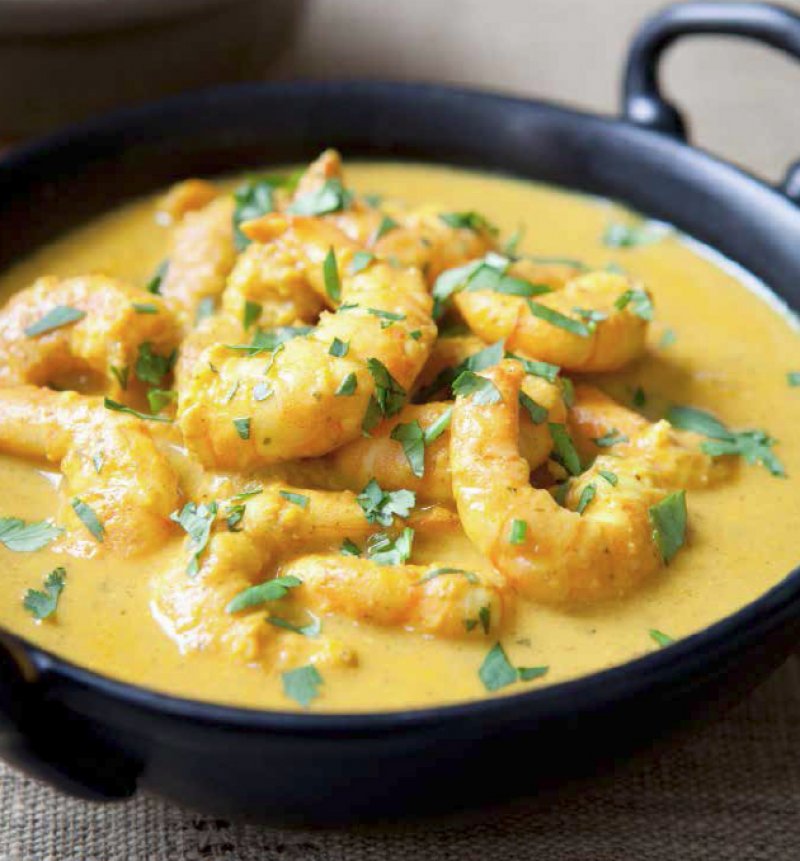 Info
PT45M
Serves

4
Prep time

10 minutes
Cooking time

20-25 minutes
Calories

205 per serving
Ingredients
1 tbsp sunflower oil
2 medium onions, finely chopped
4 garlic cloves, finely sliced
20g chunk of fresh root ginger, peeled and finely chopped
3 tbsp Korma curry paste
500ml cold water
2 tbsp double or single cream
2 tsp caster sugar
400g peeled raw tiger prawns, deveined if necessary and thawed if frozen
20g bunch of fresh coriander, leaves roughly chopped
flaked sea salt
Method
Heat the oil in a medium non-stick saucepan or sauté pan and stir in the onions, garlic and ginger. Cover the pan with a lid and cook the onions and garlic over a medium heat for 10 minutes until pale golden brown, stirring occasionally.

Remove the lid and stir in the curry paste. Cook for a further minute, while stirring, then add the water and bring to the boil. Lower the heat slightly and simmer for 8–10 minutes, uncovered, until the liquid has reduced by half and the onions are very soft.

Remove the pan from the heat and, using a stick blender, blitz to a smooth sauce. Stir in the cream and sugar, season with a little salt and put the pan back on the heat.

Add the prawns to the pan, bring to a simmer and cook for 3–4 minutes, stirring, until the prawns are completely pink and beginning to curl.

Sprinkle the fresh coriander over the top, stir well and serve the korma immediately with a small portion of rice.