Coffee and Walnut Bundt Cake
A Bundt cake is baked in a Bundt tin and is a mega ring of deliciousness. Coffee and walnut are a perfect flavour partnership and just right with a cup of frothy cappuccino.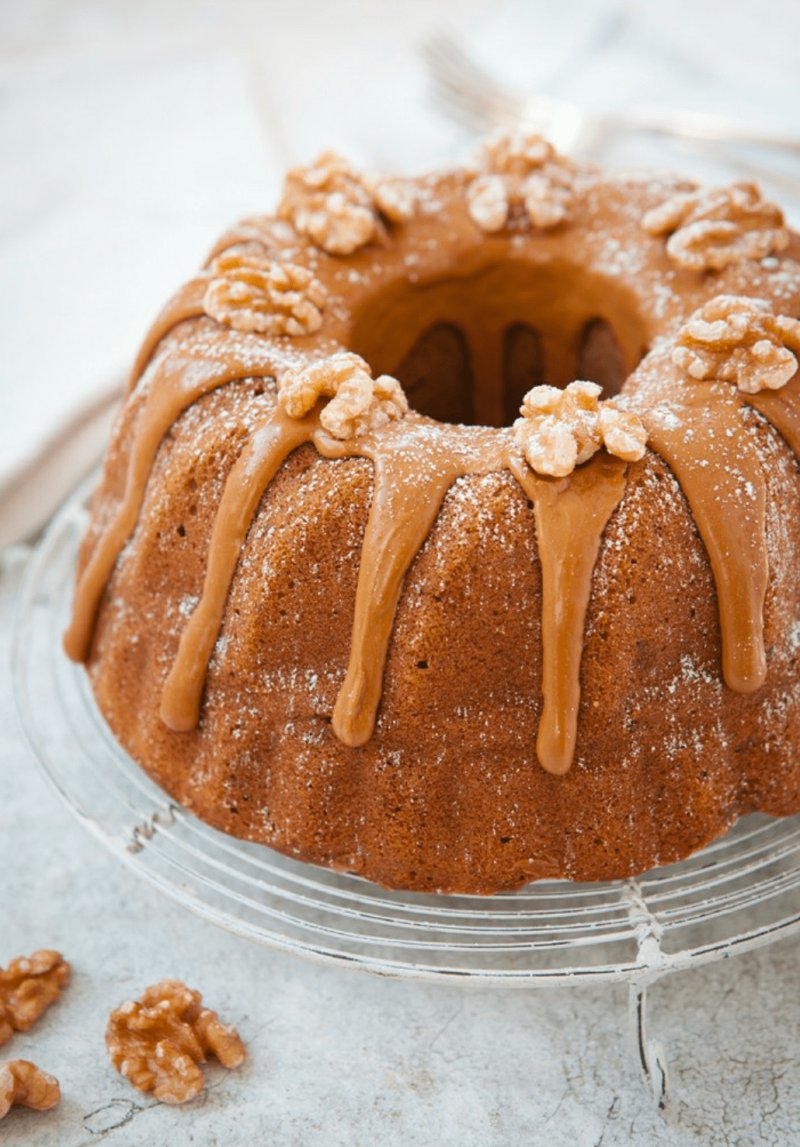 Info
Serves

Makes 12 slices
Ingredients
450g plain flour
1 tsp baking powder
1⁄2 tsp bicarbonate of soda
2 tbsp instant espresso powder
large pinch of salt
225g butter, softened
225 soft light brown sugar
4 eggs
150ml soured cream
1 tsp vanilla extract
100ml strong coffee
100g walnuts, chopped, plus extra to decorate
For the glaze
1 tbsp instant espresso powder
100g icing sugar
Method
Preheat the oven to 170°C/Fan 150°C/Gas 31⁄2. Grease a deep Bundt tin and sprinkle it with flour or use cake release spray if you have some.


Put the flour, baking powder, bicarbonate of soda, and espresso powder into a bowl with a large pinch of salt and then whisk to get rid of any lumps. Beat the butter and sugar together in a stand mixer or in a bowl with electric beaters until they have increased in volume and are very soft. Add the eggs, one at a time, following each one with 2 tablespoons of the flour mixture, until they are all incorporated. Fold in the rest of the flour – the mixture will be quite stiff at this stage.


Mix the soured cream, vanilla extract, and coffee together, then gradually incorporate this into the batter. Finally, stir in the walnuts.


Pour the batter into the prepared tin and bake for about an hour, checking after 50 minutes. The cake is done when it has shrunk away from the sides, is well-risen, and a rich brown in colour. Test with a skewer to make sure – it should come out virtually clean.


Leave the cake to cool in the tin for at least half an hour, then turn it out on to a cooling rack.


To make the glaze, dissolve the espresso powder in a tablespoon of just-boiled water, then gradually stir in the icing sugar. Add a few more drops of hot water if necessary, but be sparing as this icing can go from the right consistency to too runny in an instant. You need to be able to spread it, rather than have it run off the cake. When the cake is completely cool, drizzle the icing over it. Decorate with extra walnuts.