Christmas Gravlax with Dill, Treacle & Cumin
This is a wonderful version of the traditional Swedish gravlax. It is raw salmon cured with salt, sugar and dill in the traditional way, but we also use cumin and treacle in the mix. This gives it a sensational flavour that we think makes it extra Christmassy. Serve with a green salad and traditional dill sauce or simply with a squeeze of lemon. Just the job for Christmas dinner.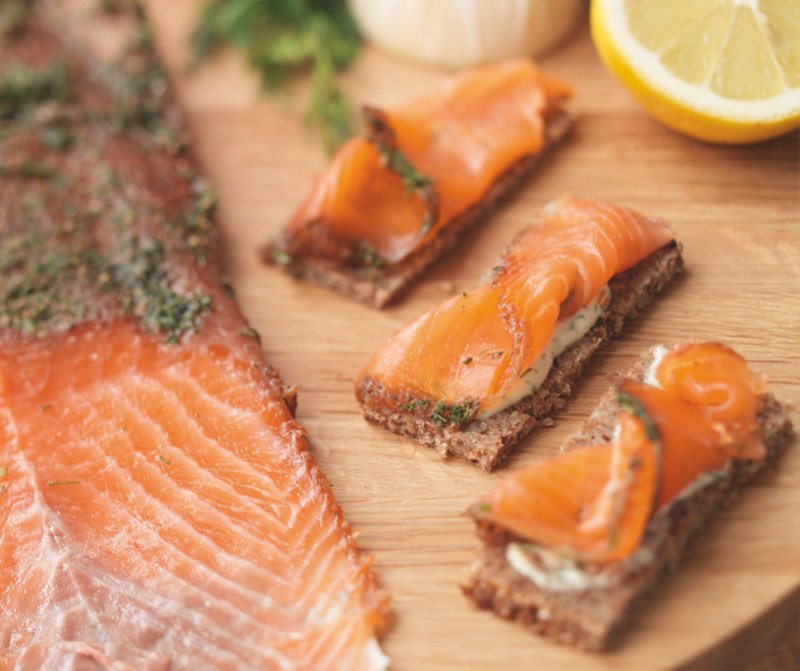 Ingredients
2 middle-cut fillets of salmon,about 1kg each, pin bones removed
100g sea salt flakes
100g caster sugar
1 tbsp crushed white peppercorns
large bunch of fresh dill, finely chopped
2 tbsp treacle
2 tbsp ground cumin
extra sea salt flakes
Method
While making gravlax, keep your hands, chopping boards and any utensils as clean and hygienic as possible. Wipe the fish fillets and place them on a large, clean board. Make sure all the pin bones have been removed by running your finger down the centre of the salmon. If you feel any little bones, ease them out of the flesh with tweezers.


Mix together the sea salt, sugar, peppercorns, dill, treacle and cumin in a bowl to make the curing mixture. At this stage it will look like a bowl of black gravel.


Sprinkle a layer of the extra salt on a large piece of foil and place one salmon fillet on top, skin side down. Cover the flesh with the curing mixture. Place the other piece of salmon skin side up on top and scatter over some more sea salt flakes.

Wrap the salmon up carefully and seal the edges of the foil to make a tight parcel. We always wrap it in another sheet of foil to help the seal. Put the parcel on a baking tray and put a plate and a weight on the top to apply pressure to the parcel. We usually borrow some weights from the scales.

Place the salmon in the fridge and leave it to cure for at least 2 days. Turn the parcel twice a day so the juices from the top half and the bottom half drain evenly. Juice will escape through the parcel so when you turn the salmon, discard any excess juice – this is part of the curing process as the salt draws the moisture out of the fish. You can leave the fish longer if you want.

Unwrap the parcel and discard the bits of dill and peppercorn. The gravlax is now ready to eat. Cut the slices on the bias so you get slices that show off the black edges made by the treacle. Wrap the remaining salmon in clingfilm and refrigerate. This needs eating within the week but that shouldn't be a problem!