Chocolate Gingerbread
This one requires a little self-discipline. While many cakes are best eaten on the day they are baked, gingerbread improves with time. Wrap these up, stash them away in a tin and enjoy a lovely sticky treat a few days later. It's worth the wait, we promise.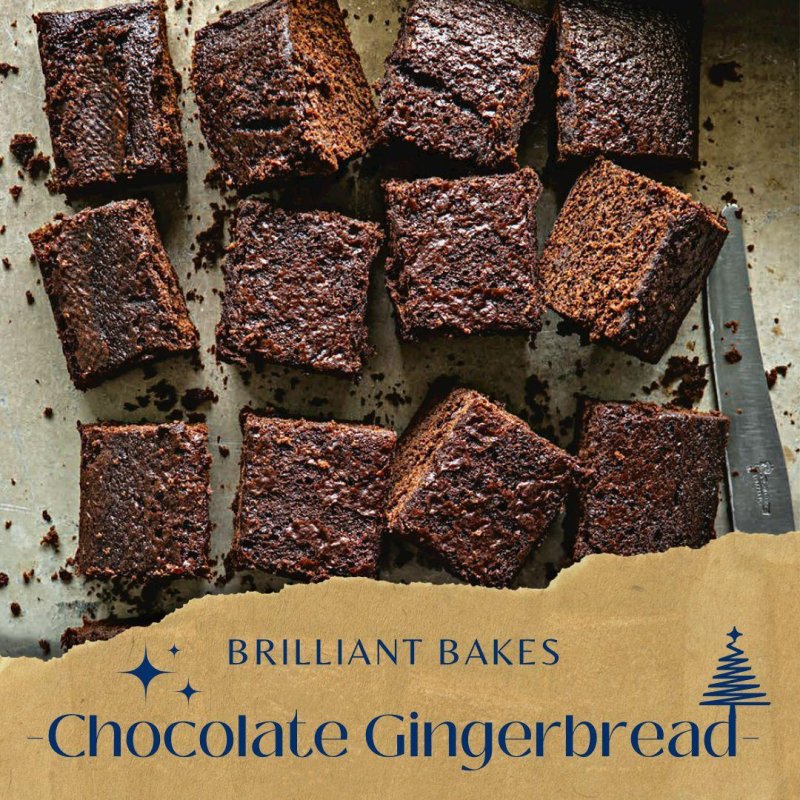 Info
PT2H
Serves

Makes 16 squares
Prep time

up to 1 hour + several days resting time
Cooking time

40-50 minutes
Ingredients
For the Gingerbread
250g plain flour
50g cocoa powder
2 tbsp ground ginger
1 tsp ground cinnamon
1⁄4 tsp cayenne or hot chilli powder
pinch of salt
150g butter
125g dark brown soft sugar
200g golden syrup
200g black treacle
150ml whole milk
1 heaped tsp bicarbonate of soda
2 eggs
50g dark chocolate, finely chopped
Method
Preheat the oven to 170°C/Fan 150°C/Gas 31⁄2. Line a 30 x 20cm baking tin with baking parchment.

Sift the flour into a large bowl with the cocoa and spices. Add a generous pinch of salt and stir or whisk to combine.

Put the butter, sugar, golden syrup and treacle into a saucepan. Heat gently until everything has melted together.

Remove the pan from the heat and whisk in the milk, bicarbonate of soda and eggs. Don't be surprised if the mixture froths up a little.

Gradually stir the contents of the saucepan into the flour mixture, making sure it's all well combined and there are no little pockets of flour. You should have a very wet, pourable batter. Stir in the chocolate.

Pour the batter into the prepared tin and bake in the oven for 45–50 minutes. When the edges of the gingerbread have pulled back slightly from the side of tin and it's springy to the touch, it's done.

Leave the gingerbread to cool in the tin for half an hour, then remove it and place it on a wire rack to cool completely before cutting it into squares. If possible, wrap the cake and keep it for several days before eating – this will allow it to develop the classic gingerbread stickiness as it matures.