Chocolate Cake
We just had to have a chocolate cake in our Everyday Winners book, as it came up again and again in our survey and this one is a knock-out. Simple enough to make every week but can be dressed up with chocolate curls for a birthday or celebration. One thing to mention – be sure to use proper cocoa powder, not drinking chocolate.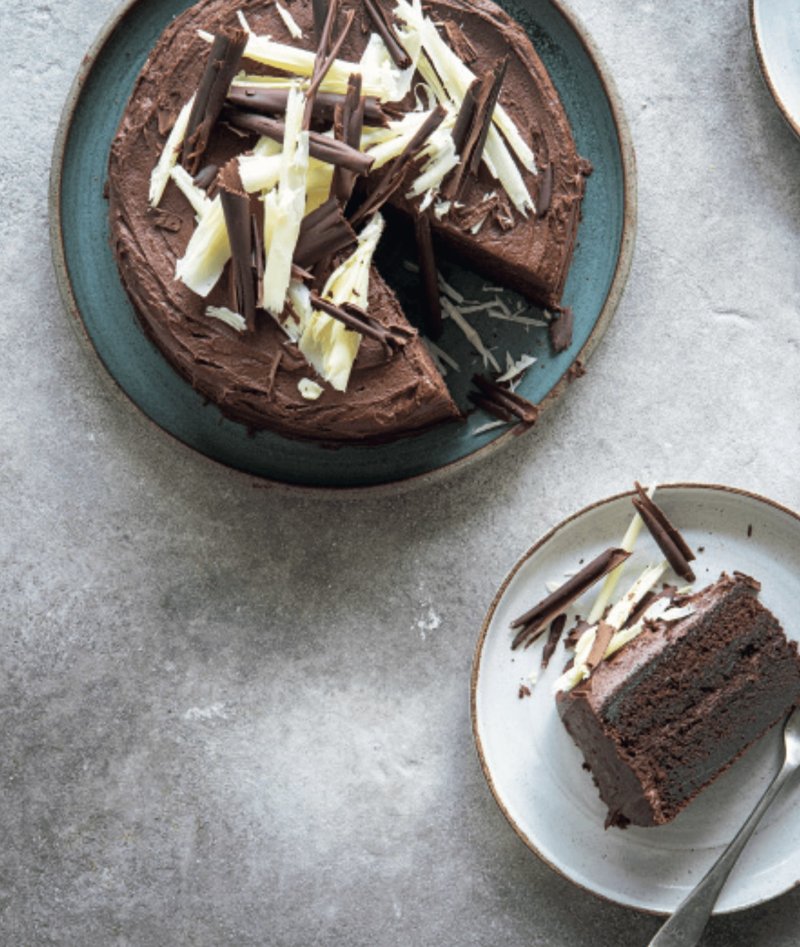 Info
Serves

8 - 10 people
Prep time

30 minutes
Cooking time

35 - 40 minutes
Ingredients
For the cake
100g dark chocolate (70% solids), broken up
25g cocoa
250ml just boiled water
200g plain flour
2 tsp baking powder
½ tsp bicarbonate of soda
200g butter, softened
250g light soft brown sugar
3 eggs
1 tsp vanilla extract
125ml sour cream
For the buttercream:
150g butter, softened
50g cocoa powder
300g icing sugar
1-2 tbsp milk (optional)
Decoration (optional)
Method
Preheat the oven to 180C. Line 2 20cm sandwich tins with baking parchment

Put the chocolate and cocoa in a bowl and pour over the boiled water. Whisk until the chocolate has completely melted and you have a smooth liquid. Set aside.

Whisk the flour, baking powder, and bicarbonate of soda together with ¼ tsp salt.

Beat the butter and sugar together until very soft and aerated. Beat in the eggs one at a time, then add all the remaining ingredients, including the chocolate liquid, and combine, keeping the mixing to a minimum. You should end up with a rich, pourable batter.

Divide the batter between the two tins. Bake in the oven for 25-30 minutes well risen and springy to touch. Remove from the oven and leave to stand in their tins for 10 minutes, before turning out on a wire rack to cool.

To make the buttercream icing, beat the butter until soft and aerated, then add the cocoa, icing sugar and salt. Continue to beat until smooth, adding a little milk if the mixture seems too stiff.

Spread a third of the icing over one of the cakes and place the other cake on top. Spread the rest of the icing over the top and sides of the cakes. Leave to set before serving. Add some lovely curls of chocolate, if you like.