Chickpea and Paneer Frittata
Paneer is a fresh white cheese that's very popular in India and readily available in the UK. It's made without rennet so is perfect if you're vegetarian, and it works well in this Italian-style omelette or frittata. This is great as a starter with a dollop of mango chutney on the side or you can serve it with salad as a light main course or a brunch dish. Good cold in a lunchbox too.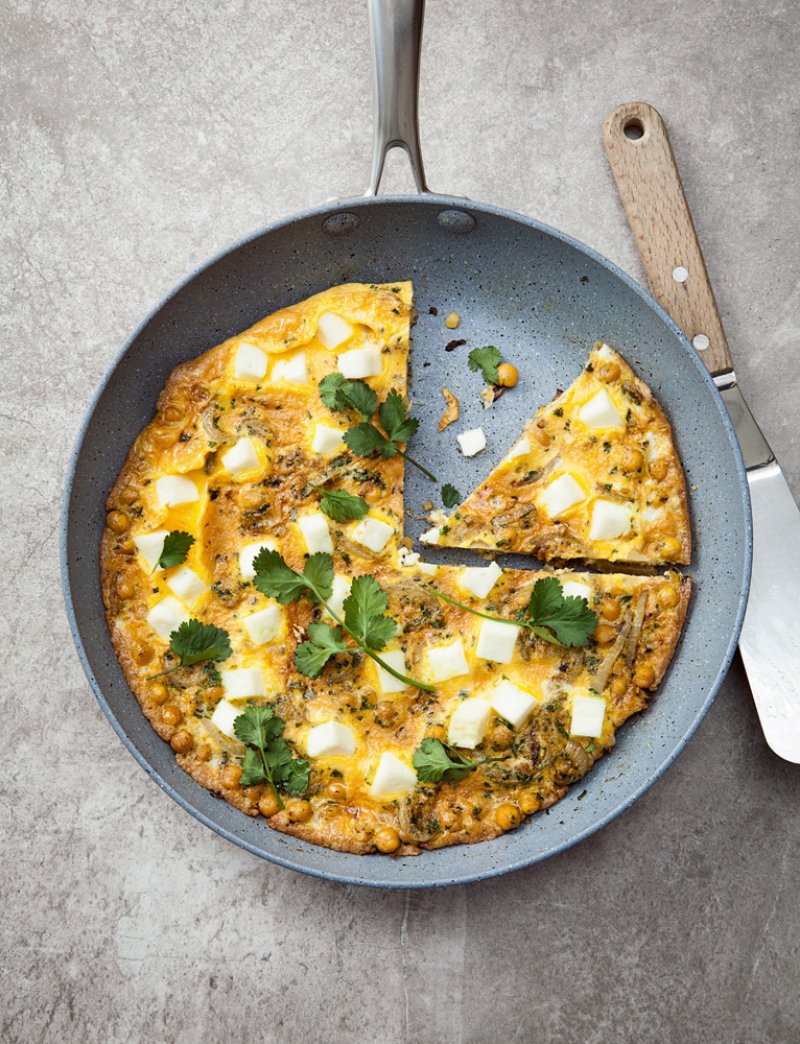 Ingredients
1 tsp olive oil
1 onion, sliced
20g fresh root ginger, finely chopped
400g can of chickpeas, drained and rinsed
2 tsp curry powder
small bunch of coriander, chopped, plus extra to garnish
6 eggs, beaten
100g paneer, diced
Method
Heat the olive oil in a large, non-stick frying pan or an omelette pan. Add the onion slices and cook them over a medium to high heat, turning them regularly, until they're just starting to brown. They don't need to soften much and should still have some texture.

Add the ginger to the pan and cook for another minute, then add the chickpeas. Add the curry powder and stir to combine, then sprinkle over the chopped coriander.

Pour in the eggs, swirling them round so they are distributed evenly in the pan, then dot the paneer over the top. Cook for 3–4 minutes until the underside of the frittata has set and browned lightly – you will see the colour change around the edges. Meanwhile, heat your grill to a medium setting.

Put the pan under the grill and finish off the cooking. The eggs and paneer will brown lightly and the frittata will puff up a little.

Remove the pan from the grill and leave the frittata to drop down again, then cut it into wedges. Serve hot or cold, garnished with a few extra coriander leaves.