Chicken tagine with preserved lemons and olives
This simple chicken tagine is great made a day before and left so the flavours can infuse.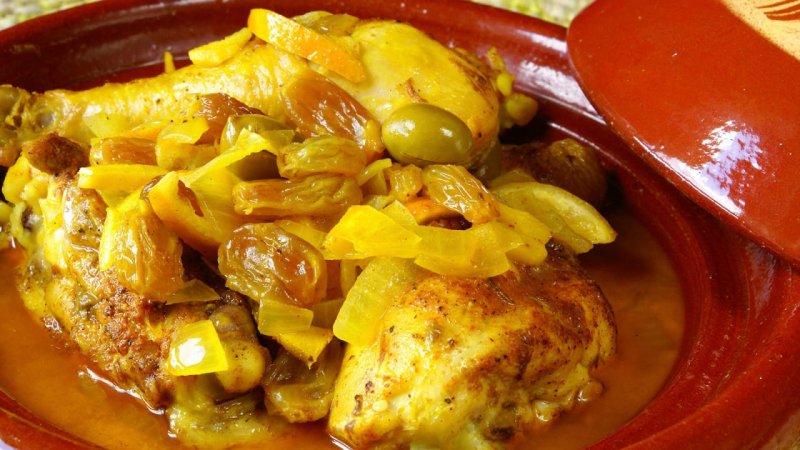 Ingredients
1/2 tsp saffron threads, crushed
250ml/9fl oz chicken stock, warmed
3 tbsp olive oil
3 onions, chopped
1 tsp ground ginger
1 tsp ground cumin
3 garlic cloves, finely sliced
1 free-range chicken, jointed
1 tsp black peppercorns, crushed
6 small preserved lemons, quartered, or 2 larger ones, chopped (these are available from many supermarkets or specialist delis)
100g/3.5oz mixed olives (green is traditional)
good handful coriander leaves, chopped
good handful flatleaf parsley, chopped
Method
Add the saffron threads to the stock to infuse.

Meanwhile, in a tagine or heavy-bottomed lidded casserole, heat the olive oil and fry the onions until soft. Add the ginger, cumin and garlic and cook gently for a couple of minutes.

Add the chicken and stir to coat with the onion and spices. Sprinkle in the crushed peppercorns and add the lemons and saffron-infused stock.

Bring to a simmer, then cover and cook on a very gentle heat for about one hour, or until the chicken is falling apart.

Add the olives and continue to simmer for another ten minutes. Add the chopped coriander and parsley just before serving.

Serve with potatoes, crusty bread or rice and a green salad.