Chicken tagine with preserved lemons
Saffron, chilli, preserved lemons, coriander – our version of this North African stew is a winner. It's fragrant, filling and fabulous, so enjoy. You can buy jars of preserved lemons in large supermarkets.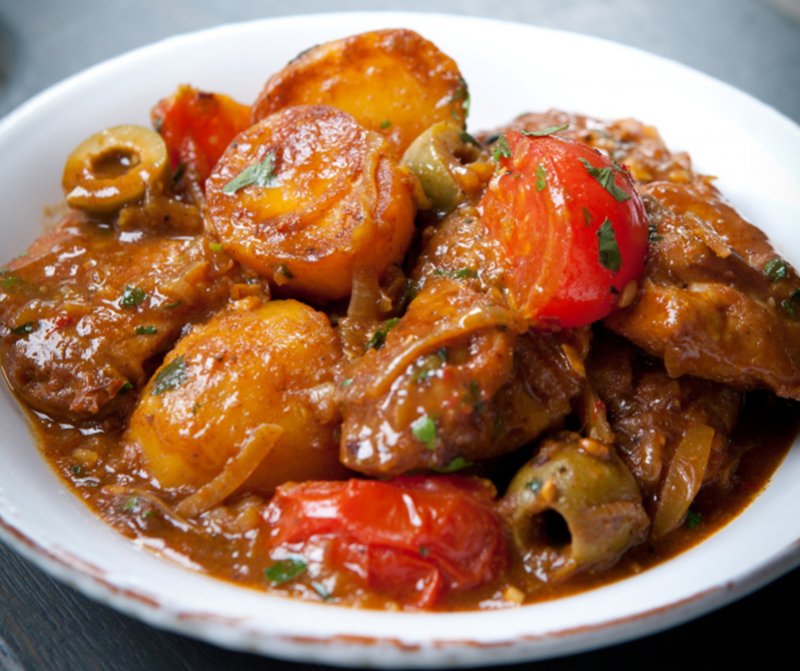 Info
PT2H
Serves

5
Prep time

15 minutes
Cooking time

45-55 minutes
Calories

313 per serving
Ingredients
pinch of saffron threads
1 chicken stock cube
250ml just-boiled water
8 boneless, skinless chicken thighs
2 preserved lemons (size of a walnut in its shell), rinsed
1 tbsp olive oil
2 medium onions, sliced
3 garlic cloves, finely sliced
1 tsp ground ginger
2 tsp ground cumin
1 tsp paprika
1 tsp dried chilli flakes
2 tbsp cold water
600g medium potatoes, preferably Maris Pipers
3 large ripe tomatoes
50g pitted green olives in brine, drained
20g bunch of fresh coriander, leaves roughly chopped
20g bunch of fresh parsley, leaves roughly chopped
flaked sea salt
freshly ground black pepper
Method
Put the saffron in a measuring jug with the stock cube and pour over the 250ml of just-boiled water. Stir until the stock cube dissolves and set aside. Put the chicken thighs on a board and trim off all the visible fat, then season the chicken with salt and pepper. Slice the preserved lemons into very thin strips, flicking out any pips as you go.

Heat the oil in a large non-stick saucepan. Add the onions, garlic, ginger, cumin, paprika and chilli flakes. Season with lots of black pepper and cook for 2 minutes, while stirring. Add the 2 tablespoons of cold water and steam-fry for another 3 minutes, stirring regularly until the onions are lightly browned. Add the chicken and preserved lemons to the saucepan and cook over a medium heat for 5 minutes, turning the chicken until it's lightly coloured on all sides.

Meanwhile, peel the potatoes and cut them into rough wedge shapes or chunks of about 4cm. Roughly chop the tomatoes and cut the pitted olives in half. Put the potatoes, tomatoes and olives in a large bowl and toss with the herbs and plenty of salt and pepper.

Scatter the vegetable mix over the chicken, pour over the saffron stock and cover the pan tightly with a lid. Simmer over a very low heat for 35–40 minutes, without removing the lid, until the chicken and potatoes are tender.