Chicken Liver Parfait with Cranberry Butter
This smooth, creamy pâté is perfect for a starter or light lunch on New Year's Day. Top with a tangy cranberry butter and serve with some toasted brioche or granary bread.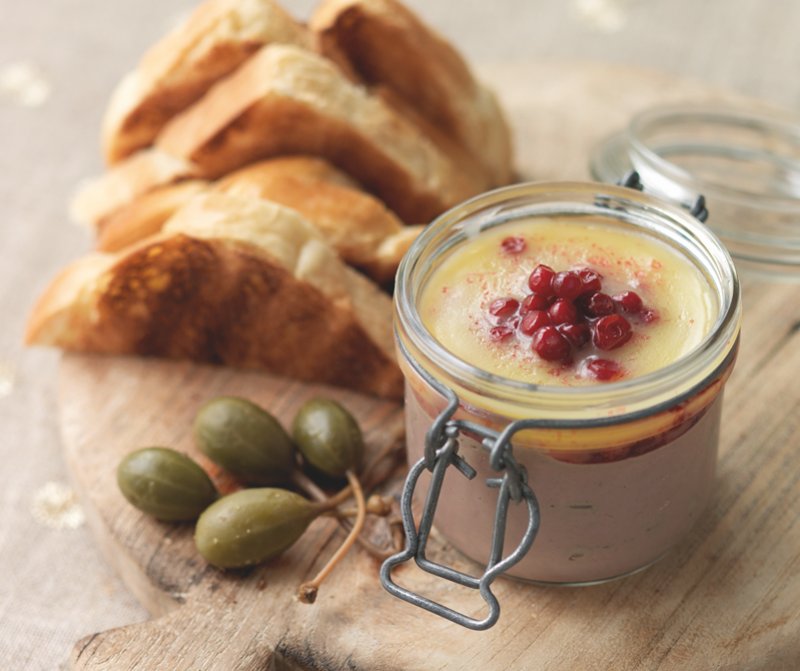 Ingredients
200g butter
1 medium banana shallot or 1/2 small onion, finely chopped
1 bushy sprig of thyme
1 bay leaf2 garlic cloves, finely chopped
a good pinch of ground nutmeg
a good pinch of ground allspice
500g chicken livers, trimmed
50ml brandy
50ml Madeira
3 tbsp double cream
sunflower oil, for greasing
sea salt
freshly ground black pepper
Cranberry Butter
100g butter
6 tbsp cranberry sauce (choose a bright red one if possible – fresh cranberry sauce will give the best colour)
Method
Melt 50g of the butter in a medium pan and gently fry the shallot with the thyme and bay leaf until well softened but not coloured, stirring regularly. Add the garlic, nutmeg and allspice and cook for 1 minute more, stirring.

Drop the chicken livers into the pan and cook over a high heat for 2–3 minutes or until lightly browned and hot. Cut one of the largest livers in half to check – it should look pale pink inside. Pour the brandy and Madeira into the pan and boil hard for 1–2 minutes or until almost all the liquid evaporates.

Remove the pan from the heat and discard the thyme and bay leaf. Tip the chicken liver mixture into a food processor and season with plenty of salt and pepper. Melt the remaining 150g butter in a small pan over a low heat. Blend the chicken liver and shallot mixture for a minute, then remove the lid and push the mixture down with a spatula. With the motor running, slowly pour the melted butter onto the liver, then add the double cream and blend for a few seconds more.

Transfer the mixture to a fine sieve set over a bowl and press through firmly, using a ladle to push the mixture through the tiny holes. Grease six 100ml ramekins or small dishes with sunflower oil and divide the mixture between them.

To make the cranberry butter, melt the butter in a small pan over a very low heat. Remove from the hob and pour into a measuring jug. Spoon off any foam that rises to the surface and leave to stand for a few minutes to allow the milk solids to sink to the bottom of the jug. When the butter is looking clear, tip back into the pan and stir in the cranberry sauce. Warm together gently for a few minutes, stirring occasionally until the sauce melts. Leave to cool for 10 minutes.

Spoon a little sauce on to each ramekin and leave to cool. Cover with clingfilm and chill for 2 or 3 hours or overnight until set. Eat within 3 days.