Chicken Caesar salad
We've been creating and enjoying loads of salads and we love this one which is good and hearty. The clever little dressing makes enough for four servings, so cover what's left and keep it in the fridge for up to three days. Use it to perk up any salad leaves.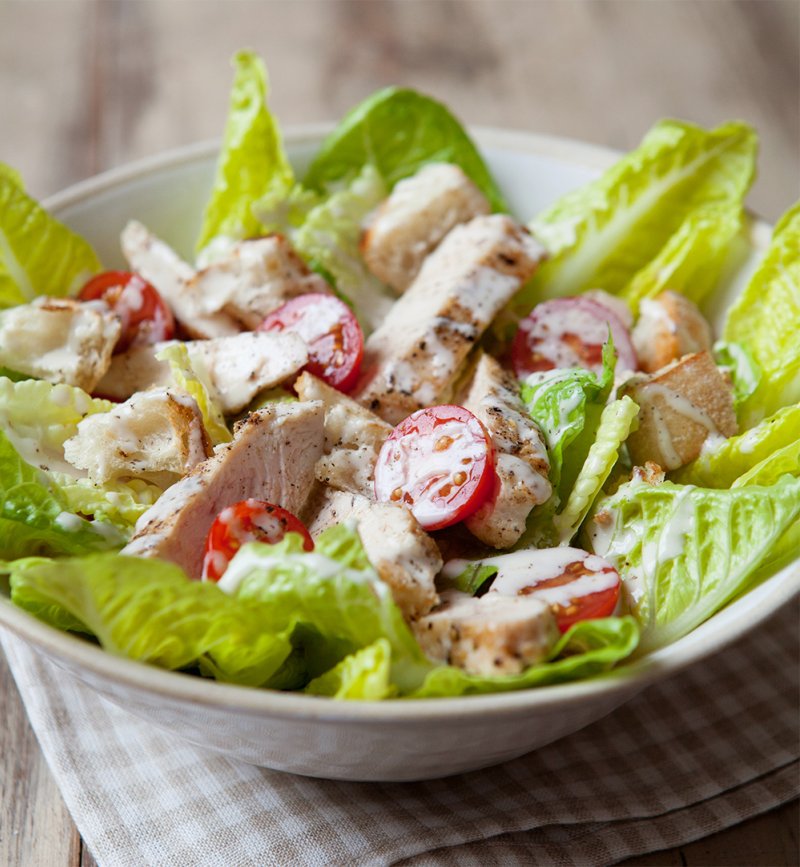 Info
PT20M
Serves

2
Prep time

10 minutes
Cooking time

less than 5 minutes for the chicken breast
Calories

272 per serving
Ingredients
2 boneless, skinless chicken breasts
1 tsp sunflower oil
1 romaine lettuce heart
10 cherry tomatoes, halved
2 slices of ciabatta bread, each about 1.5cm thick (15g a slice)
flaked sea salt
freshly ground black pepper
Dressing
2 anchovy fillets in oil, drained and roughly chopped
1 garlic clove, peeled and roughly chopped
2 tbsp light mayonnaise
1 tsp lemon juice
15g Parmesan cheese, finely grated
2½ tbsp cold water
Method
To make the dressing, put the anchovy fillets in a pestle and mortar, add the chopped garlic clove and pound into a paste. Add the mayonnaise, lemon juice, Parmesan and water and stir well to make a pourable dressing.

Place a chicken breast between 2 sheets of cling film and bash it with a rolling pin until the chicken is about 1cm thick. Bash the other chicken breast in the same way, then season the breasts on both sides with a little salt and plenty of black pepper.

Dip a pastry brush in the oil and brush over the base of a large nonstick frying pan. Place the pan over a medium heat, add the chicken and cook for 2 minutes. Turn the breasts over and cook for 2–3 minutes on the other side until nicely browned and cooked through. Remove from the heat and leave the chicken in the warm pan to rest.

While the chicken is cooking, make the salad. Separate the lettuce leaves and wash and drain them well. Tear any large leaves into smaller pieces. Arrange the lettuce in a large serving dish and scatter over the tomatoes. Toast the slices of ciabatta and tear them into bite-sized pieces.

Put the cooked chicken breasts on a board and cut them into thick strips. Scatter these over the lettuce and tomatoes and toss everything together lightly. Spoon over half the dressing and serve while the chicken is warm. Fantastic!