Chicken and Pumpkin Curry
We Brits are good at bringing home the best flavours from around the world. Curries of all kinds are British classics these days and Caribbean curries like this one certainly have their place. It is worth looking for Caribbean curry powder as its unique flavour adds so much to this dish. We can't guarantee this dish will make you run as fast as Usain Bolt but it will make you smile when you taste it.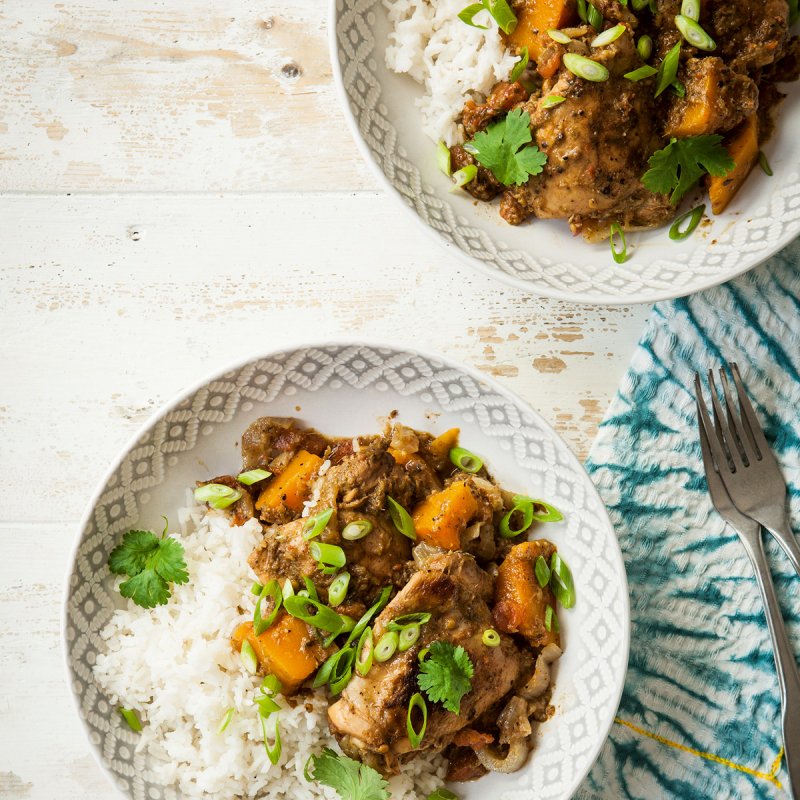 Info
PT2H
Serves

4
Prep time

10 minutes + marinade for at least 2 hours, preferably overnight.
Cooking time

1 - 1.5 hours.
Ingredients
8 bone-in chicken thighs
juice of 1 lime
sea salt and black pepper
Marinade
4 spring onions, chopped
4 garlic cloves, chopped
20g fresh root ginger, peeled and chopped
2 scotch bonnets, seeded and finely chopped
zest and juice of 1 lime
2 tbsp medium curry blend, preferably Caribbean
½ tsp ground allspice
Curry
1 tbsp vegetable oil
1 onion, thickly sliced
300ml chicken stock
2 tomatoes, peeled and diced
2 large thyme sprigs
2 bay leaves
400g pumpkin, cut into large chunks
juice of ½ a lime
1 tsp rum (optional)
To serve
sliced spring onions
chopped parsley or coriander
Method
Skin the chicken thighs, put them in a bowl and season them with salt and pepper. Put all the marinade ingredients into a small food processor and blend to a paste – add a little water if needed.

Pour the marinade over the chicken and mix thoroughly to make sure the chicken is completely covered. Cover and leave for as long as you can – at least a couple of hours, but overnight is better. If you are leaving the chicken for longer than an hour, put it in the fridge.


For the curry, heat the vegetable oil in a large flameproof casserole dish. Add the onion and cook it over a medium heat for several minutes until it starts to turn golden-brown. Add the chicken and the marinade to the dish – the idea is not to brown the chicken but to cook the marinade ingredients for a couple of minutes. Add the stock (or water is fine if you don't have any stock).

Add the tomatoes, thyme and bay leaves and season with salt and pepper. Bring to the boil, then turn the heat down, cover, and leave to simmer for about 40 minutes.


Add the pumpkin and cook for a further 10 minutes, covered. Pour in the lime juice and the rum, if using. Remove the lid and cook for another 5–10 minutes to reduce the sauce slightly and finish off cooking the pumpkin.

Serve topped with sliced spring onions and fresh parsley or coriander. Some steamed rice is a perfect accompaniment.


Hairy Biker tips: If you'd like your curry more coconutty, add some grated coconut cream at the end or 100ml of coconut milk with the stock.

And if you want a bit less heat, just use one scotch bonnet.