Cherry Viennese Whirls
Said to have been inspired by an Austrian filled biscuit, Viennese whirls are pretty little piped biscuits, sandwiched with buttercream and jam. They're always delicious but even better when you bake your own and you can make them any shape you like. Put on some Johann Strauss and indulge – teatime doesn't get better than this.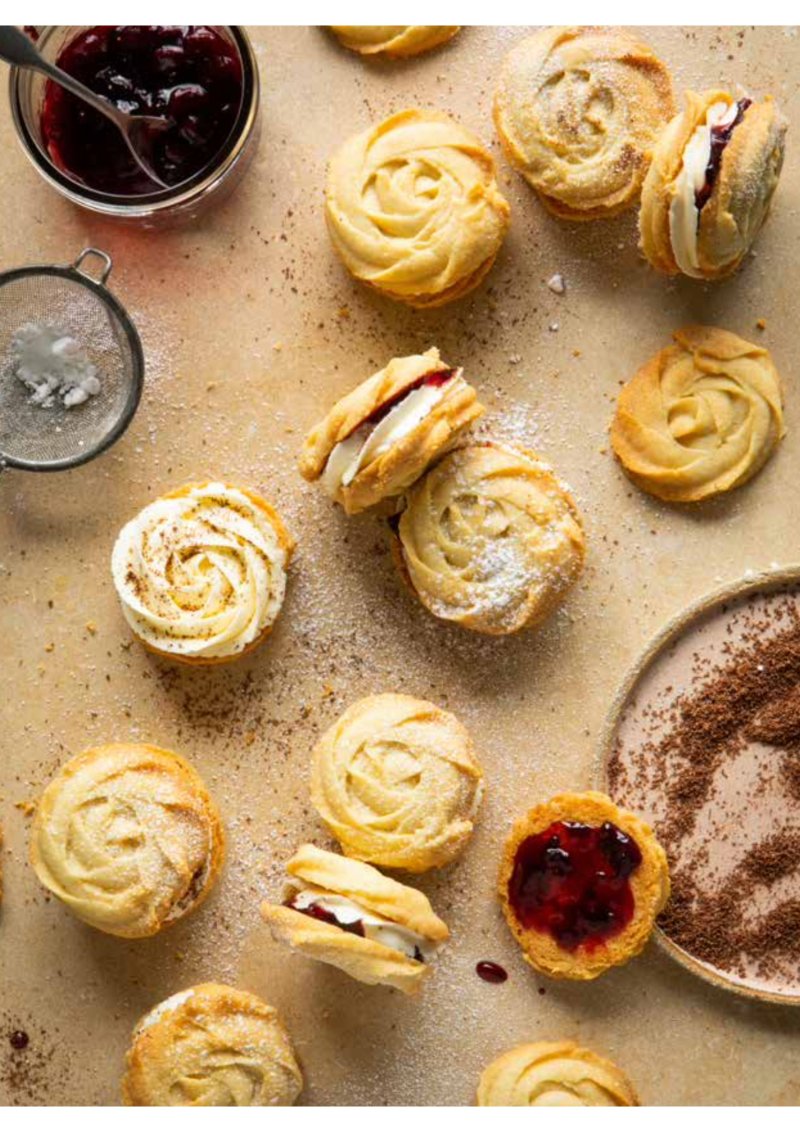 Info
Serves

Makes about 16 sandwich biscuits
Prep time

Less than 30 minutes
Cooking time

13 - 15 minutes
Ingredients
Biscuits
250g butter, softened
50g icing sugar
250g plain flour
50g cornflour
1⁄2 tsp vanilla extract
pinch of salt
Filling
100g butter, softened
200g icing sugar, sieved
a few drops of vanilla extract or kirsch
up to 2 tbsp milk
50g dark chocolate, grated (optional)
75g cherry jam or conserve
To serve
Method
Line 2 baking trays with baking parchment. Put all the biscuit dough ingredients into a bowl and beat together to make a smooth, soft paste. Chill the dough in the fridge for 15 minutes.

Fit a star nozzle in a piping bag. Spoon in half the mixture, then pipe it out on to the baking tray, spacing the biscuits well apart. The shape is up to you – you can do small swirls, stars or strips. Repeat with the remaining batter – you should end up with about 32 biscuits.

Chill the piped biscuits for at least half an hour, longer if it is a very hot day. This will help them keep their shape. When you are ready to bake the biscuits, preheat the oven to 190°C/Fan 170°/Gas 5.

Bake the biscuits for 13–15 minutes until they are a pale golden colour and cooked through. Leave them to cool on the tray.

To make the filling, put the butter and icing sugar in a bowl and mix together. Use a spoon to start with, as this gives you more control and stops the icing sugar from flying everywhere. Once the mixture is crumbly, use electric beaters or beat more vigorously with a spoon until the mixture is very soft and light – it will increase a lot in volume too. Stir through vanilla or kirsch and just enough milk to loosen the mixture a bit.

Using a palette knife, spread some of the filling on the underside of half the biscuits. Sprinkle with grated chocolate, if using. Spread the underside of the remaining biscuits with the jam or conserve, then sandwich together.

Leave the biscuits to set – chill them for half an hour if necessary – then store in an airtight tin. Dust with icing sugar before serving.