Cheese Shortbread
Shortbread doesn't have to come in a tartan tin! You might think that making 40 of these is a bit over the top on our part, but be warned – no one can eat just one. And once you start, you can't stop. The dough freezes well, though, so if you like, pop one of the logs in the freezer for another time. You can slice and bake the dough from frozen or defrost it first, as you prefer. Really hard cheeses, such as Parmesan, mature Cheddar or Gruyère, work best and be sure to grate the cheese as finely as possible.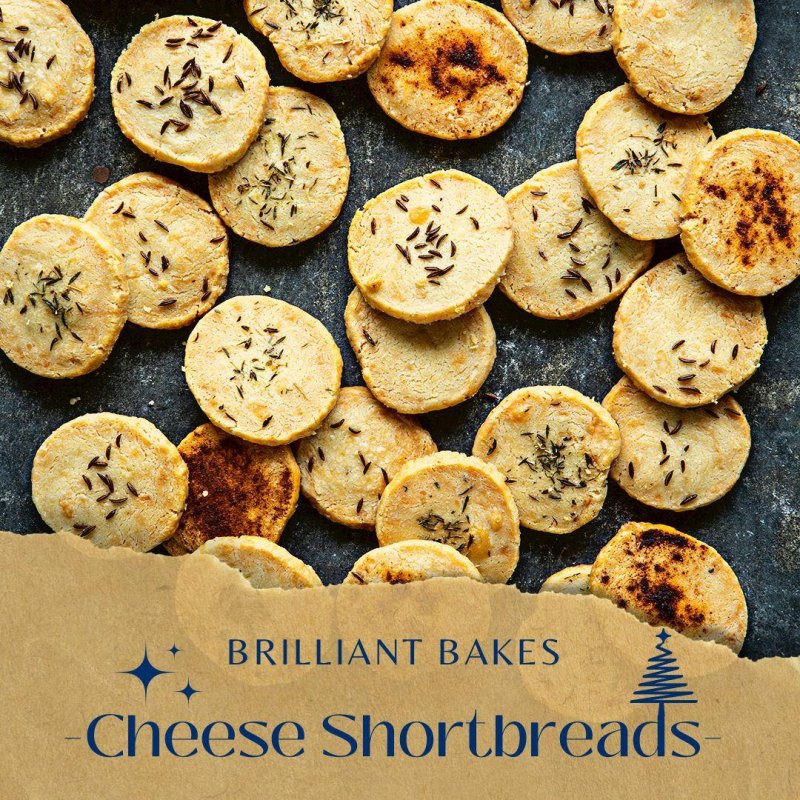 Info
PT2H
Serves

Makes 40
Prep time

1 hour, 10 minutes
Cooking time

15 - 18 minutes
Ingredients
150g plain flour, plus extra for dusting
100g butter, chilled and diced
Pinch of salt
85g Cheddar, Parmesan,
Gruyère or similar, finely grated
Optional extras
1 tsp dried thyme or rosemary
1⁄2 tsp cayenne or chipotle powder
1 tsp caraway or cumin seeds
Method
Put the flour, butter and a generous pinch of salt in a food processor and process until completely combined – the mixture should go just beyond the fine breadcrumbs stage and start clumping together. Add the cheese and process again until the mixture forms into a dough. You can do all this by hand if you prefer, of course.

Turn the dough out on to a lightly floured work surface and knead very briefly until smooth. Divide it in half and roll each piece into a log of about 4cm in diameter. Wrap and chill in the fridge for an hour.

When you are ready to bake the biscuits, preheat the oven to 180°C/Fan 160°C/Gas 4. Line 2 baking trays with baking parchment. Cut the logs into rounds – each should be about 5mm thick – and arrange them on the baking trays. You should have about 40 biscuits. Sprinkle with any of the optional extras that take your fancy.

Bake the shortbread in the preheated oven for 15–18 minutes until very lightly brown around the edges. Remove from the oven and leave to cool on the trays. Store in an airtight container.