Boozy Syllabub Trifle
Everyone loves a trifle. This pudding looks very posh but it's really just an assembly job. You have to mix the syllabub, but the rest of the work is just piling things into a bowl. Not too hard really when you think of the treat you have in store. Shop-bought custard is fine or make your own with the recipe on page 277.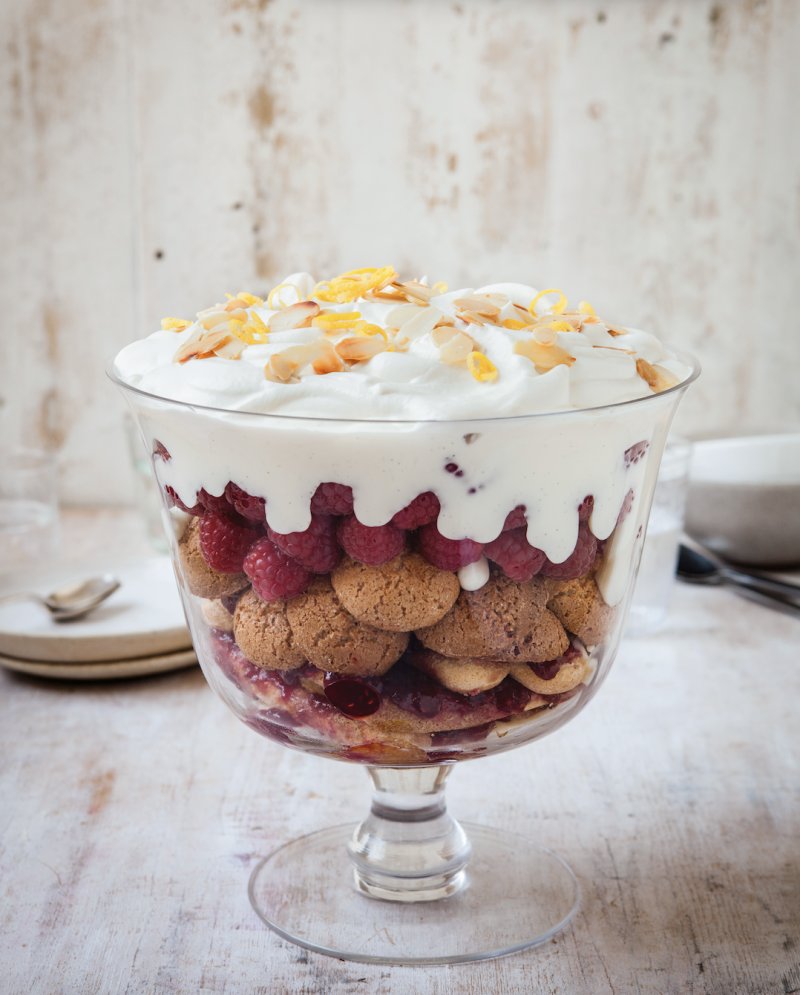 Ingredients
1 packet of trifle sponges or fingers
2–3 tbsp raspberry jam
100ml sweet sherry or marsala
150g amaretti biscuits
500g raspberries
1 large pot of custard
50g toasted flaked almonds
Syllabub
50ml sweet sherry or marsala
1 tbsp brandy (optional)
zest of 1 lemon, plus extra to garnish
2 tbsp caster sugar
400ml whipping cream
Method
First start the syllabub. Put the sweet sherry or marsala in a bowl with the brandy, if using, the lemon zest and caster sugar. Stir until the sugar has dissolved. Leave this to stand for at least the time it takes to assemble the trifle, but for several hours if you are able to prepare ahead.

To assemble the trifle, first spread half the trifle sponges or fingers with the raspberry jam and arrange them in the base of a trifle bowl. Pour over the sherry and top with the amaretti biscuits, followed by the raspberries. Spoon the custard over the raspberries, then cover and leave to chill.

Now finish the syllabub. Whip the cream until it reaches the soft peak stage, then stir in the sherry mixture and whisk again to combine. Spoon this over the trifle, then sprinkle over the toasted almonds and some extra lemon zest.