Beer-battered scampi with tartare sauce
Proper North Sea scampi, AKA Dublin Bay prawns or langoustine tails, are the best in the world and we love 'em. We cooked this fantastic scampi dish with a super-light, crispy batter on our 'Best of British' series and it disappeared faster than Ronnie Biggs! The crew loved it and that's always a good sign. Great with the home-made tartare sauce too.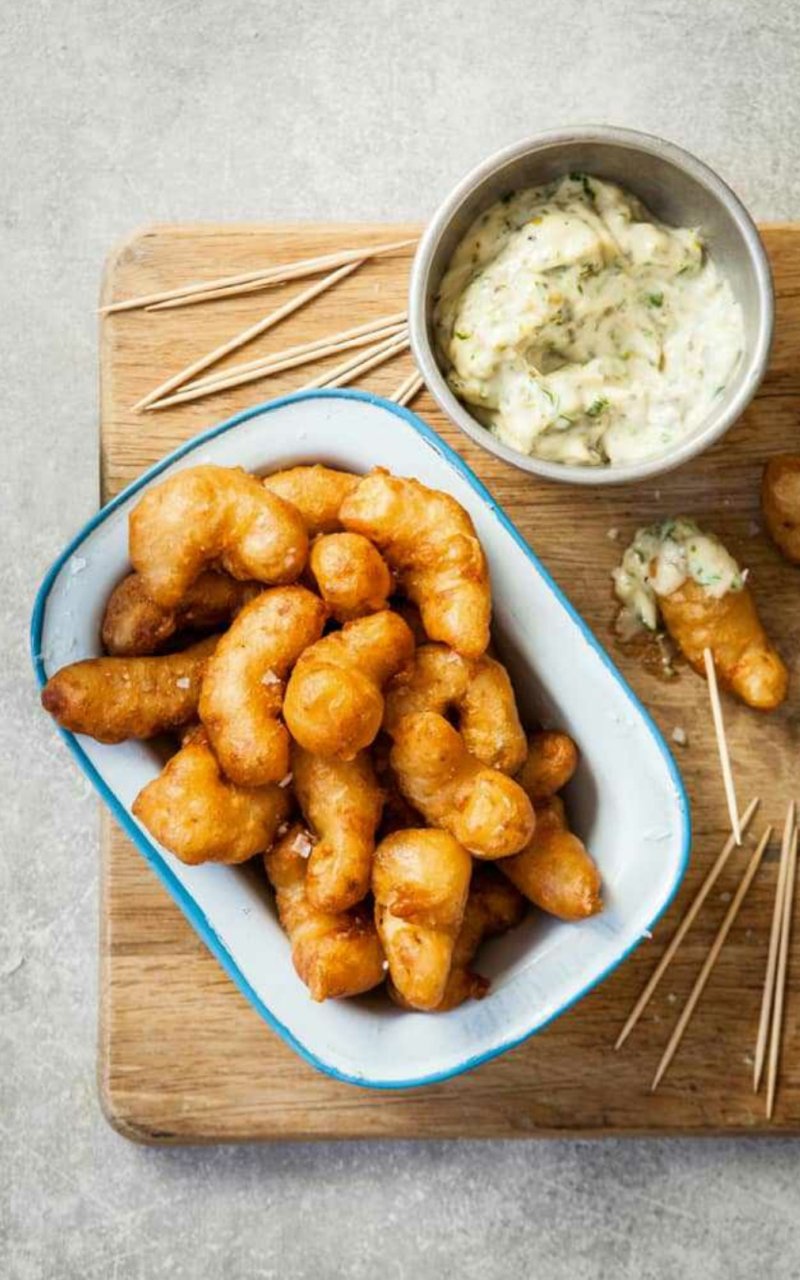 Ingredients
vegetable oil
4 tbsp plain flour
½ tsp fine sea salt
16–20 scampi tails peeled and thawed (if frozen
lemon wedges, to serve
For the batter
30g cornflour
100g plain flour
½ tsp fine sea salt
160ml real ale
1 tbsp white wine vinegar
Tartare Sauce
1 egg yolk
½ tbsp white wine vinegar
1 tsp Dijon mustard
pinch of caster sugar
pinch of fine sea salt
75ml vegetable oil
25ml extra virgin olive oil
25g capers, drained and roughly chopped
25g cornichons, drained and thinly sliced
1 tbsp chopped parsley
1 tbsp chopped tarragon
black pepper
Method
First make the tartare sauce. Using a balloon whisk, whisk the egg yolk, vinegar, mustard, sugar and salt in a bowl until well combined. Gradually add the oils, a few drops at a time, and keep whisking until the sauce is smooth and very thick. Stir in the capers, cornichons, parsley, tarragon and plenty of black pepper. Cover the surface of the sauce with cling film and set it aside for 20 minutes.


Mix the cornflour, plain flour and salt together in a large bowl to make the batter. Make a well in the centre and stir in two-thirds of the ale, then whisk to make a smooth batter. Gently whisk in the remaining ale and the vinegar. Set aside.


Fill a large pan or a deep-fat fryer two-thirds full with vegetable oil. Heat the oil to 190°C. Use a thermometer to check the temperature if you're not using a deep-fat fryer and be careful – hot oil is dangerous so don't leave it unattended.


Put the 4 tablespoons of flour in a plastic or paper bag and season with salt. Add the scampi tails, one at a time, and shake to coat them in the seasoned flour.


Stir the batter and, using tongs, dip a piece of floured scampi into the batter until thoroughly coated. Gently place the scampi in the hot oil. Quickly repeat with 3 or 4 more pieces, adding them to the pan, and cook them for 3–4 minutes until they're golden-brown and crisp.


Remove the scampi, drain them on kitchen paper and keep them warm. Bring the oil back to 190°C, and cook the remaining scampi in 2 or 3 more batches.


Serve the scampi with the tartare sauce and lemon wedges.