Beef sukiyaki
This Japanese favourite makes a little beef go a long way. We cooked it with Kobe beef that was tender but eye-wateringly expensive. Fortunately, we reckon that sukiyaki tastes even better with good British beef, which for us has a more beefy flavour, and that's what we use now we are back home. If you like, you can try other types of mushrooms, such as shimeji or oysters.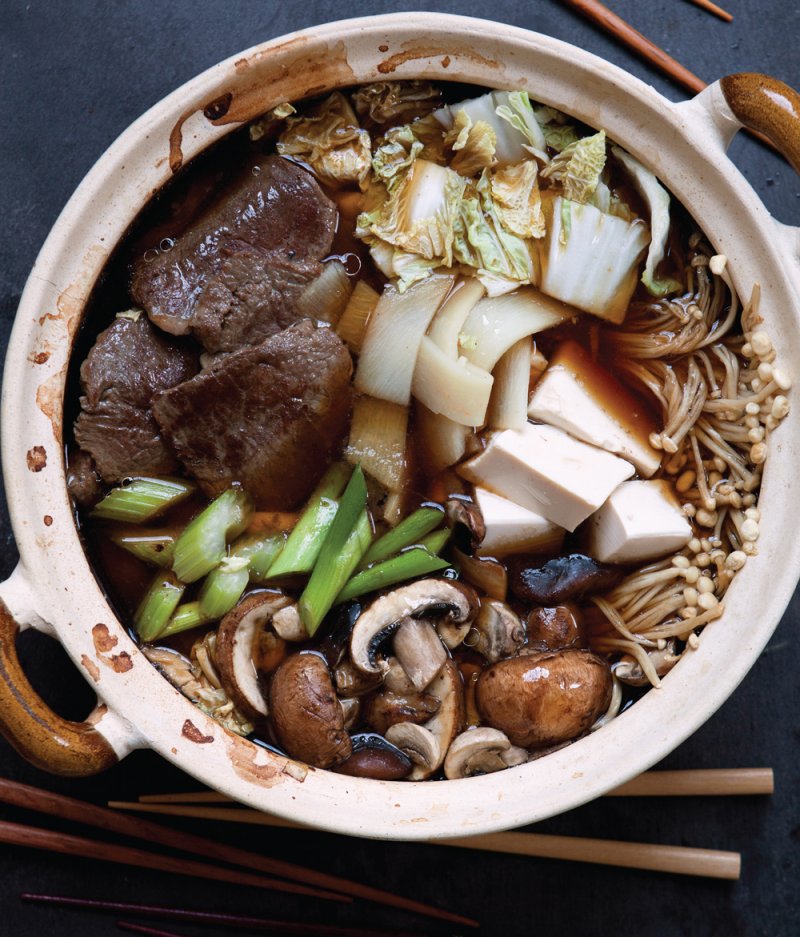 Ingredients
450g beef fillet or well-trimmed rib-eye
2 tbsp groundnut oil
2 tsp sesame oil
1 1⁄2 tbsp sugar
12 button mushrooms, sliced
4 brown cap mushrooms, sliced
100g enoki mushrooms, split into 4
6 fresh shiitake mushrooms, cut into half and stalks removed
6 fresh shiitake mushrooms, cut into half and stalks removed
1 1⁄2 celery sticks, sliced at an angle into 1.25cm slices
160–175g block of firm tofu, cut into cubes
200g bamboo shoots, sliced (preferably vacuum-packed, but canned will do)
6 spring onions, cut at an angle into 3cm pieces
Japanese rice, for serving
For the Sukiyaki sauce:
175ml liquid dashi
50ml soy sauce
50ml mirin
Method
Cut the beef into thin slices. You want to make them a little thicker than carpaccio slices, more the size of a slice of ham. Top tip from us is to put the beef in the freezer for an hour or 2 to firm up – makes it much easier to slice thinly.

To make the sauce, mix the liquid dashi with 175ml of water in a small bowl or jug, then add the soy sauce and mirin. Set the sauce aside.

Now you need a sauté pan or a large non-stick frying pan with a lid. It's good to have one that's suitable for serving at the table too if you like. Heat the groundnut oil and sesame oil in the pan. Once it's hot, add the beef, then sprinkle it with the sugar, which will help caramelise the meat.Turn the meat over after about 30 seconds - it will cook very quickly as it is so thin.

Push the meat to the sides of the pan. Add all the mushrooms, cabbage, celery, tofu, bamboo shoots and cook for another 2 minutes, just long enough to brown the tofu slightly and wilt the cabbage. Take care not to overcook anything as you want to keep the textures of the ingredients.

Add the sukiyaki sauce to the pan, put the lid on and simmer for 2 minutes. Remove the lid, turn the vegetables and tofu over, then stir the beef into the vegetables and add the spring onions. Simmer for another 2 minutes.

Take the pan to the table so that everyone can help themselves, or serve in bowls with some rice.