Beef stroganoff
You may need to cook this in batches up to step 4, then mix everything together in a large pot before transferring to ovenproof dishes.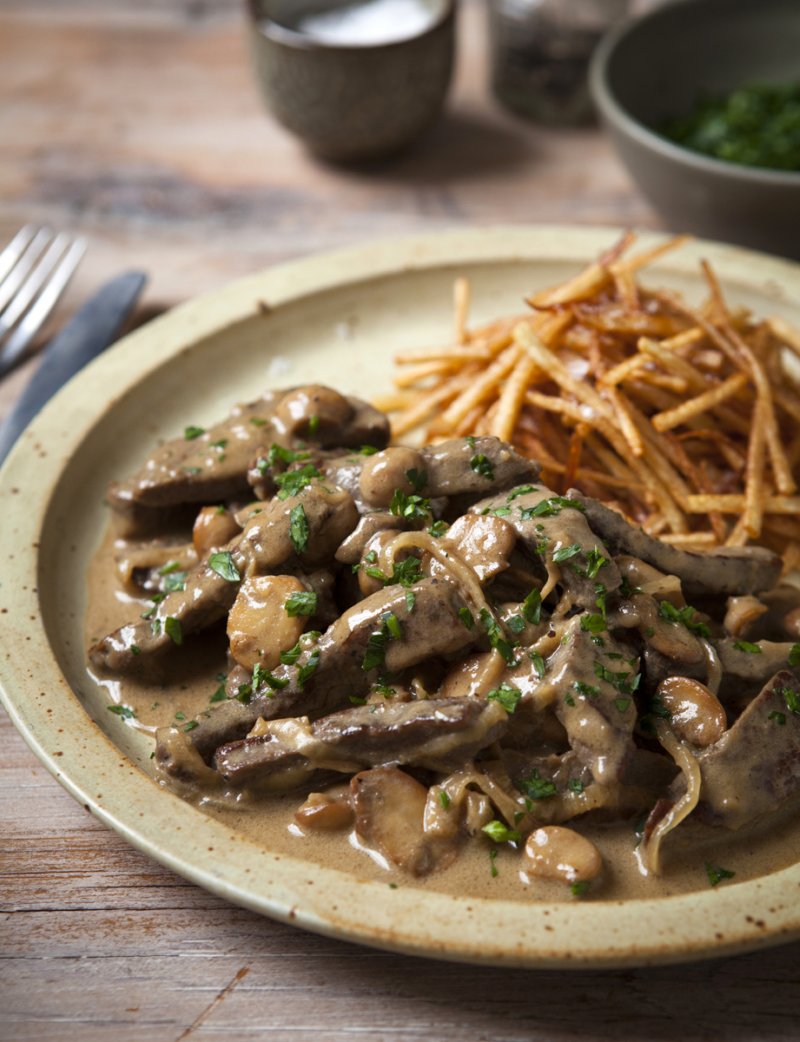 Info
PT45M
Serves

4
Prep time

less than 30 minutes
Cooking time

10 to 30 minutes
Ingredients
600g beef fillet
25g butter
1 onion, thinly sliced
250g button mushrooms, thinly sliced
1 tbsp Dijon mustard
400ml beef stock
1 tbsp vegetable oil
2 heaped tbsp soured cream or crème fraiche
1 tbsp (or more) brandy (optional)
squeeze of lemon (optional)
finely chopped parsley, to serve
flaked sea salt
freshly ground black pepper
Method
First prepare the beef fillet. Cut it into slices ½–1 cm thick, then slice these into strips about 1cm wide. Season the meat with salt and pepper and set it aside for a few minutes.

Heat the butter in a large frying pan. Add the onion and sauté for 2 minutes, then add the mushrooms and continue to cook until both are soft. Stir the mustard into the pan, coating the onion and mushrooms thoroughly – we find it easier to add the mustard at this stage than to mix it into the stock. Pour the stock into the pan, then leave it to simmer until the liquid has reduced by about half. Stir in the crème fraiche and set the pan aside for a few minutes.

In another large frying pan, heat the vegetable oil. When it's smoking hot, add the strips of beef. Fry, stirring continuously, until the meat is browned on all sides. This should take about a minute at the most. If you want to flambé the beef, put the brandy in a ladle and carefully heat it over a flame. When the alcohol starts to burn off (you will see the fumes), tip it very gently towards the flame and it will ignite. Immediately pour this over the beef and give it a quick stir. Stand well back when doing this and be very careful.

Reheat the onion and mushroom sauce, then add the beef. Check the seasoning and add more salt and pepper to taste. If you find the sauce too rich, add a squeeze of lemon. Sprinkle with parsley before serving.