Baked fish with chorizo crust
There's no doubt about it – chorizo is full of fat and calories. But we love it and it has such a great flavour that a little goes a long way. This is a version of a recipe we first cooked on a beach in Patagonia, but with a lower calorie count. Different types of chorizo vary in calories, but the lower-calorie versions will be about 300 calories per 100g, so choose those if you can.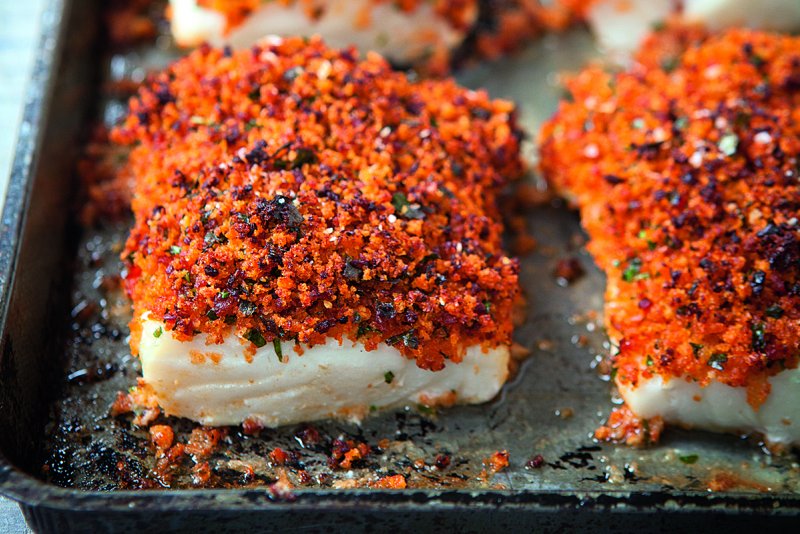 Info
Serves

4
Prep time

10 minutes
Cooking time

20 minutes
Calories

255 per serving
Ingredients
4 x 150g thick white fish fillets, such as haddock or cod, skinned
freshly squeezed juice and finely grated zest of ½ large lime
oil, for spraying
100g chorizo sausage, skinned (if necessary) and cut into 1.5cm slices
2 thick slices day-old white bread (about 100g), crusts removed
1 garlic clove, finely sliced
15g bunch of flatleaf parsley, leaves roughly chopped
1 tbsp finely grated Parmesan cheese
1 tsp flaked sea salt, plus extra for seasoning
2 tsp extra virgin olive oil
extra lime wedges, to serve
freshly ground black pepper
Method
Put the fish in a non-metallic bowl and sprinkle the lime juice over it. Toss lightly, then cover and chill while you make the crust.

Lightly mist a medium non-stick frying pan with oil and fry the chorizo over a medium heat for 1–2 minutes or until the fat begins to run, stirring regularly. Tear the bread into pieces (you should have about 65g after you've removed the crusts) and add it to the pan. Toss the bread with the chorizo and cook for 3 minutes more until the pieces are stained all over with the red fat, stirring. Tip it all on to a plate and leave to cool for 10 minutes. Preheat the oven to 200°C/Fan 180°C/Gas 6.

Transfer the bread and chorizo to a food processor and blitz into crumbs. Add the garlic, lime zest, parsley, Parmesan, a teaspoon of the salt and lots of freshly ground black pepper, then process again to combine the ingredients thoroughly.

Lightly mist a baking tray with oil and put the fish, skin-side down, on the tray with the marinating juices. Spoon the chorizo mixture on top of the fish fillets and press it on firmly. Bake for 15–18 minutes until the fish is cooked and the crust is crisp.

Put the fish on warm plates, drizzle with the olive oil and sprinkle with a little more salt if you like. Serve with lime wedges for squeezing. This fish goes very well with our creamy mash (see page 180) and a few green beans, sugar snap peas or other green vegetables.