Avocado Poke Bowl
Poke (pronounced POH-keh) bowls are a Hawaiian tradition and are the ultimate in assembly job dishes. They are often made with raw fish such as tuna but we've kept ours veggie with avocado. A one-bowl wonder that counts for an amazing four of your five a day!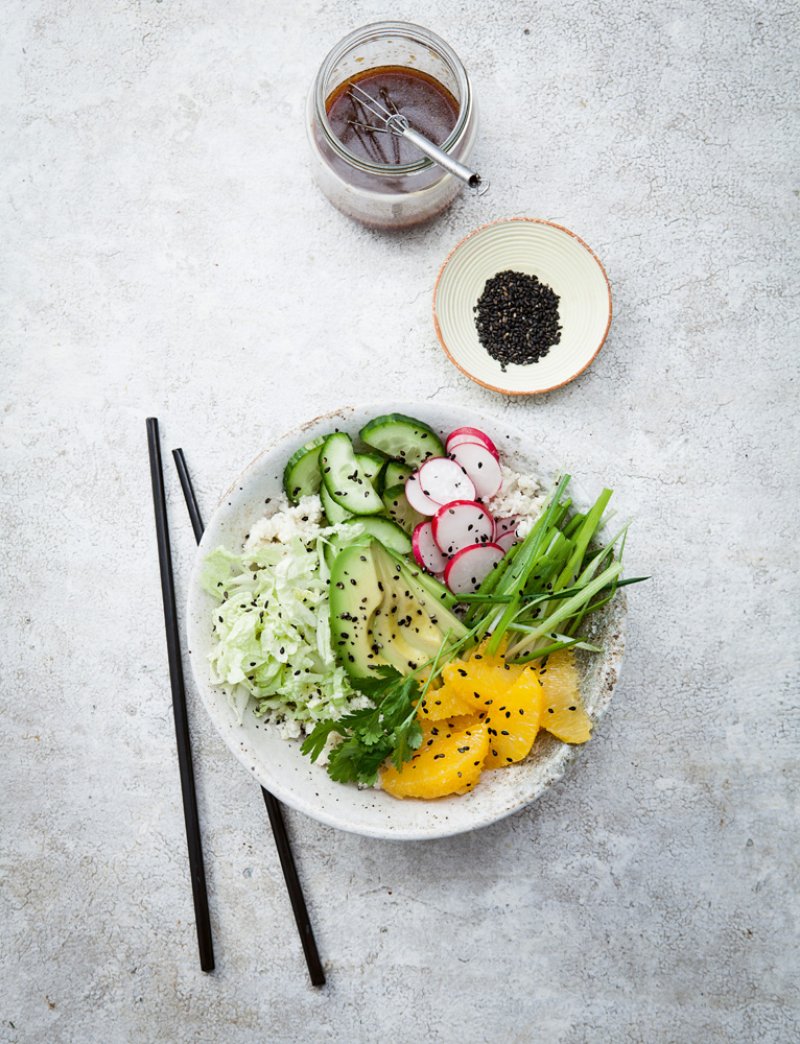 Info
PT20M
Serves

4
Prep time

15 minutes
Cooking time

5 - 8 minutes
Calories

244 per serving
Ingredients
2 oranges
1 portion of cauliflower rice
2 avocados
bunch of spring onions, cut in half and shredded lengthways
½ cucumber, halved lengthways and sliced into crescents
½ Chinese cabbage, shredded
8 radishes, sliced
Dressing
2 tbsp light soy sauce
1 tsp sesame oil
1 tsp hot sauce or a pinch of chilli flakes (optional)
1 garlic clove, crushed
15g fresh root ginger, grated
juice from the oranges
sea salt and black pepper
To serve
1 tsp black or white sesame seeds
small bunch of coriander
Method
Cut the oranges into segments. First, cut rounds from the top and bottom. Stand one of the oranges upright on a chopping board, then following its contours, carefully cut away the skin and layer of membrane. Hold the orange in your hand and cut out the segments, cutting as close to the membrane as you can. Do this over a bowl to catch the juice that will spill, then gently squeeze the membrane before you discard it. Prepare the other orange in the same way, reserving the juice for the dressing.

Next make the dressing. Add the soy sauce, sesame oil, the hot sauce or chilli flakes, if using, and the garlic and ginger to the orange juice and whisk them together. Taste for seasoning and add salt and pepper if you need to.

To assemble, divide the cauliflower rice between 4 bowls. Peel the avocados and cut the flesh into strips. Arrange the avocado, orange segments, onions, cucumber, cabbage and radishes in separate piles on top of the rice, then drizzle over the dressing. Sprinkle with the sesame seeds and garnish with the coriander. Serve immediately.

TIP: You can also make this dish with salmon instead of avocados. Cut the salmon into 2cm cubes and then chill them until you are ready to serve. Assemble the salad as above.