Aubergines with Harissa, Lentils and Greens
All the big supermarkets stock ready-made harissa now. It's a spicy chilli paste from North Africa which is full of flavour and gives these aubergines a beautiful fiery red colour. This dish looks fantastic on the plate and tastes just as good. Great satisfaction value for not many calories.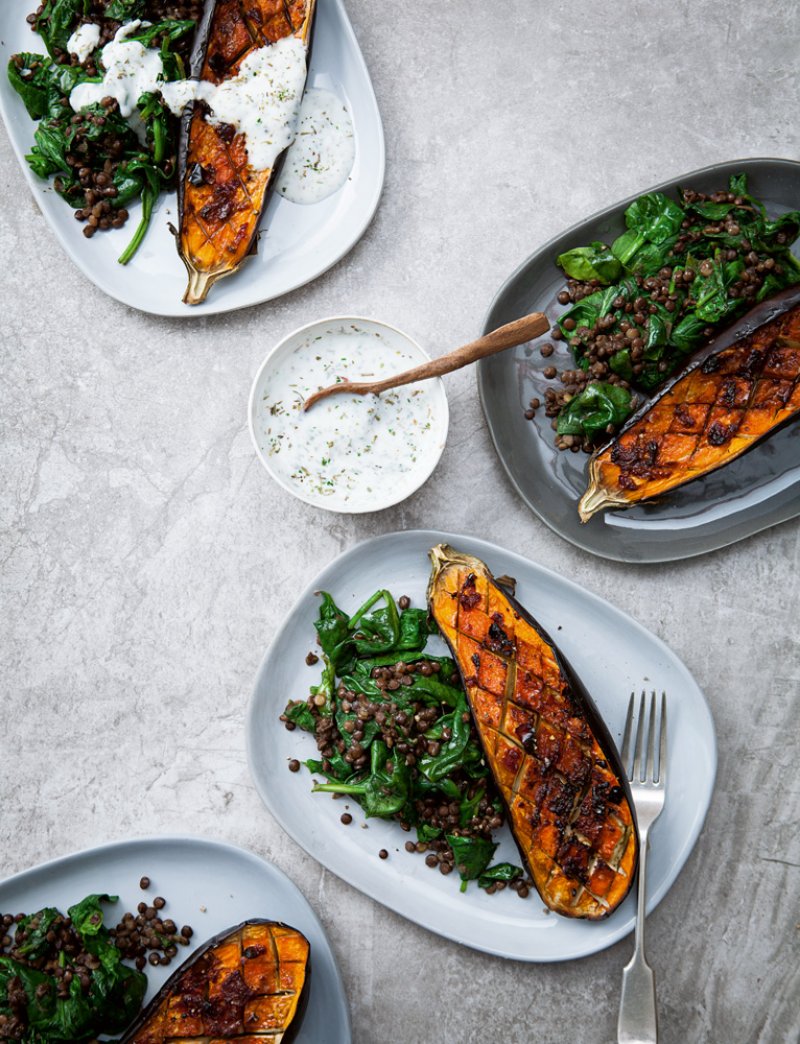 Info
PT45M
Serves

4
Prep time

10 minutes
Cooking time

Up to 35 minutes
Calories

128 per serving
Ingredients
2 large aubergines, halved lengthways
2–3 tbsp harissa paste
250g cooked puy lentils
200g fresh spinach
200g 0% or low-fat yogurt
2 tsp dried mint
Method
Preheat the oven to 200°C/Fan 180°C/Gas 6. Take each aubergine half and cut a criss-cross pattern into the flesh, making sure you don't cut through the skin. Place the aubergines on a baking tray and season them generously with salt.

Thin out the harissa with a little water if it is very thick, then brush it over the aubergines. Roast the aubergines for 30–35 minutes until the flesh is soft.

Meanwhile, put the lentils in a large saucepan and add a splash of water. Add the spinach and cook until the spinach has just started to wilt down. Remove the pan from the heat and drain the lentils and spinach immediately, but not too thoroughly.

Divide the lentils and spinach between 4 plates and add the grilled aubergines. Mix the yoghurt and mint together and season with plenty of salt and pepper.

Serve with the yoghurt dressing on the side.

TIP: You can buy packets of cooked puy lentils but if you prefer to cook your own, you will need about 100g of raw lentils.