Banging apple, cider and onion soup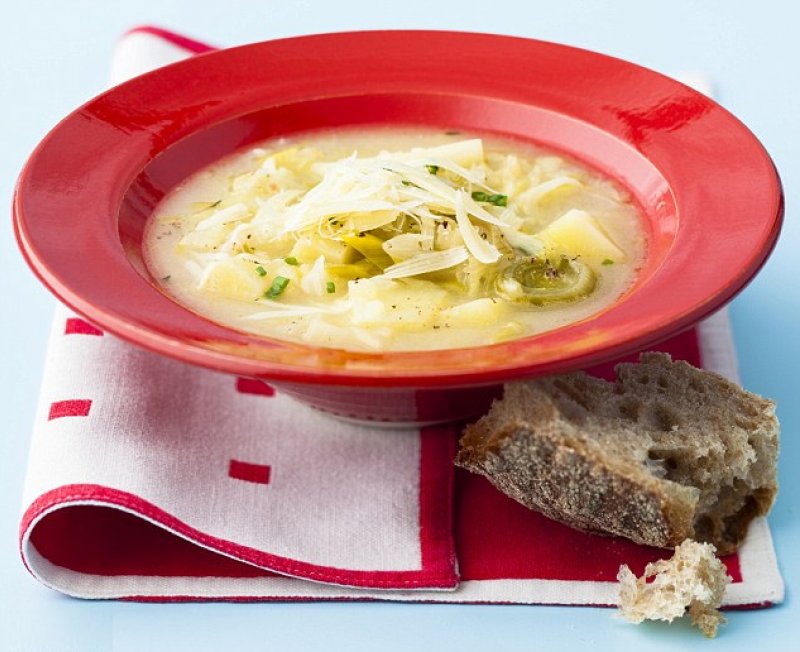 Info
PT1H
Serves

10 as a starter or 6 for lunch
Prep time

less then 30 minutes
Cooking time

30 minutes to 1 hour
Ingredients
75g / 2oz butter
1kg / 2lb onions, sliced
2 large leeks, washed and sliced
2 eating apples, peeled, core removed, sliced
2 large potatoes, peeled and chopped
150ml / 5fl oz cider
1 litre / 1.5 pint hot vegetable stock
3 bay leaves
1 sprig thyme
salt and freshly ground black pepper
To serve
200g / 7oz Gruyere cheese, grated
2 tbsp chopped fresh chives
salt and ground white pepper
nutmeg, grated, to taste
Method
Melt the butter in a large, heavy based casserole over a medium heat. When the butter is foaming, add the onions, leeks and apples and fry for 10-15 minutes, stirring regularly, until they have softened.

Add the potatoes and cider, and bring the mixture to the boil. Continue to cook for 2-3 minutes, until the volume of liquid has reduced slightly.

Add the stock, bay leaves and thyme and season, to taste, with salt and freshly ground black pepper. Reduce the heat to a simmer, cover the casserole with a lid and cook for 25-30 minutes, or until all of the vegetables are cooked through. Remove the thyme and bay leaf with a slotted spoon and discard.

Blend half of the soup in a food processor until smooth. Return the blended soup to the chunky soup mixture and stir well over a gentle heat until heated through. If you want a slightly thinner soup, add a bit more hot vegetable stock until the soup has the desired consistency.

To serve, divide the soup between six bowls and sprinkle a handful of the Gruyere cheese and a pinch of chives into each. Season, to taste, with salt and ground white pepper. Garnish each bowl with a pinch of grated nutmeg.